Welcome to Schumacher North, a regional forum devoted to exploring and promoting the ideas of deep ecology, sustainable development and social transformation pioneered by E.F. Schumacher, author of 'Small Is Beautiful'.
Schumacher North offers a varied programme of talks, courses, conferences, and practical initiatives, aimed at bringing about the sane, sustainable and compassionate world that Fritz Schumacher and his successors have envisioned.
Zero Carbon Yorkshire Launched in Leeds  – 27 February 2016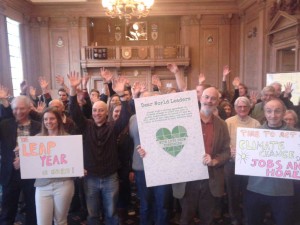 27th February 2016 – Campaigners from across Yorkshire came together at Leeds Civic Hall to launch the Zero Carbon Yorkshire initiative to rally people around bold policies that can transition Yorkshire off fossil fuels to tackle climate change and inequality. Zero Carbon Yorkshire are linking in their launch with the Leap Year, arguing that 'small steps are no longer enough, it is time to make a leap'.
Zero Carbon Yorkshire is aiming for Yorkshire to be the first Zero Carbon region in Britain, with a roadmap as to how Yorkshire can accelerate the transition to renewable energy, insulate our homes to a high standard and radically improve our transport system.  ZCY is building a broad-based,region-wide movement that will bring together businesses, local government, academia, religious groups, campaigners and individuals  in a new and ground-breaking partnership to forge a better future for Yorkshire, demonstrating what a clean, green, renewable-energy-driven powerhouse England's largest county has the potential to become.
The international climate summit in Paris left us in no doubt that radical changes to our economy are required to achieve the greenhouse gas emissions reductions needed to keep the climate within safe limits. It is clear that we cannot rely on governments alone to take the action needed to tackle climate change – the real solutions will come from the people, from local communities working together with the determination to take control of our own lives and our local economy.  As many parts of  Yorkshire are having to fight  against fracking schemes, fuel poverty and poor air quality, the Zero Carbon Yorkshire campaign  offers a chance to rally around a vision for the world we actually do want. We want to bring warm homes, clean community-owned energy, better public transport and local climate jobs to Yorkshire within the next 10-15 years. It is an ambitious goal but, if we roll our sleeves up and get to work, it can be done. Join us!
More information: www.zerocarbonyorkshire.org
'Collaborative Conversations' is an exciting programme of events, organised by Schumacher North in collaboration with a range of partner organisations and funded by the National Lottery, aimed at building a broad-based movement committed to an achievable strategy towards a zero-carbon economy in our region.  Here are some of the planned events:
Equity and Ecology- Building a Fair and Sustainable Local Economy
This public afternoon workshop was organised by Schumacher North in collaboration with Third Sector Leeds, and took place on 25th September 2015 at St Georges' Centre, Leeds. 60 people attended with a variety of speakers including coiuncil members. 6 topics were addressed in the workshop session.
Read more here.
One Planet York Festival
The One Planet York launch event occurred on the 15th June 2016 at the Ron Cooke Hub at the University of York.  One Planet York aims to get the city working towards a 'one planet' future. This partnership event connected 25 organisations and businesses, highlighting the aims and importance of One Planet Living in York.
Click here to see more on One Planet York.
Community Energy Workshop
In collaboration with Calderdale Council and Bradford City Council.  Planned for Autumn 2016 – further information available soon.
Strategies for a Sustainable World
A residential intensive for environmental and social activists – in partnership with Oasis School of Human Relations.  To be held in Autumn 2016
Zero Carbon Yorkshire
A major conference on accelerating the transition to a renewable energy economy, featuring initiatives from the community energy, municipal and commercial sectors.Date and venue to be confirmed – currently planned for late 2016 in Hull
>>> Click here to see more events from Schumacher North and related groups
---
Follow us: